Today I thought I should take care of this long pending issue of Network icon in the system tray showing a red x even though the internet is working and it is connected.

After googling for some time regarding this issue, I discovered that uninstalling Oracle VM virtual box has helped people in this case. That reminded me that I did install virtaulbox when I was trying to make a virtual Xen server which was possible on Oracle VM virtual box.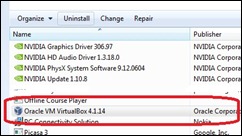 Without waiting any longer, I uninstalled Oracle VM virtual box as it was not being used any longer and BANG! the red x mark disappeared immediately.

So the suggested resolution worked like a charm. Thanks google!!